Fixed screens use robust, powder-coated aluminum rail systems to ensure your enclosure will stand the test of time. Each product we carry has a different application, some may want an inside jamb mount system, exterior system, archways, or want a removable screen frame. Our fixed screen openings can be as big as 10′ X 20′ in a single opening. We offer many different options for fixed screens. Whatever your need is, we will work with you to find the best solution.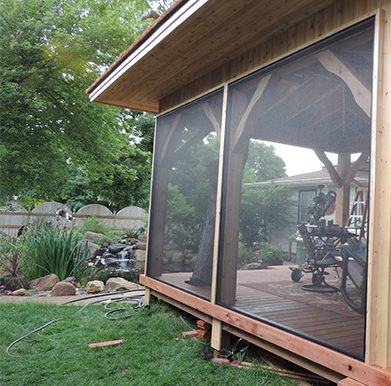 From a 1ft to 1ft or 10 X 20ft clear opening



Mesh Styles
Insect mesh 18 x 14 – black or grey
No see um mesh – black
Pet screen – black
Super mesh – black
Pricing varies per linear foot for each product and type of installation. If you would like to receive upfront pricing, get in touch with us via phone or email. If you are able to provide us with a picture and sizing, we will do our best to provide you with an accurate quote.